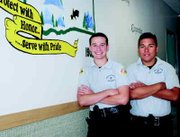 FT. COLLINS, COLO. - Three Police Explorers from Sunnyside traveled to Colorado State University in Fort Collins, Colo. last week to participate in the National Law Enforcement Exploring Conference and to learn from law enforcement agencies throughout the U.S.
Eric Desmarais Jr., Javier Valencia and Alex Aguilar were provided the opportunity to attend the conference through cooperation from Sunnyside Police Chief Ed Radder, Police Chief Assistant Charlotte Hinderlider and the Sunnyside City Council, according to Desmarais.
"We wouldn't have been able to learn so much if it weren't for them," he stated.
Desmarais and Valencia said they enjoyed the conference and were able to attend a number of seminars while at the conference. They said they were provided information on defensive tactics, fugitive investigations, leadership, shooting and tactical training, psychological profiling and more.
"We learned a lot of skills that will better prepare us to work in law enforcement when we are older," stated Desmarais.
The pair stated they were also provided several presentations. Both agreed the U.S. Marshal Service was what impressed them the most.
"I was impressed with their special operations group and sniper demonstration," said Valencia.
Desmarais agreed and the pair stated the U.S. Marshal Service's special operations group surprised the crowd of approximately 4,000 attending the conference.
They said some members of the group flew in via a Black Hawk helicopter. When it was time to determine if they could detect the whereabouts of the special operations officers, the youngsters said they were expecting to see officers on nearby buildings.
"They wore camouflage and popped out of a canal, surprising the crowd," said Valencia.
The pair estimated the distance from the canal to the crowd to be approximately 50 feet.
Both youngsters stated they attended a career fair at the conference in addition to the seminars and presentations. At the career fair, they said they learned about the many job opportunities available within law enforcement, including job opportunities available once they turn 18-years-old.
They said a commissioned officer has to be old enough to carry a gun, 21-years-old. But, they learned of non-commission positions available within the field of law enforcement.
One of those careers is with the National Parks Service. Valencia said he was impressed with the park rangers and a career with the National Parks appealed to him because of his love of the outdoors.
"You can be non-commissioned and work your way through school with their support," he stated.
Desmarais said he had been interested in careers available through the U.S. Marshal Service prior to the demonstration provided. "I am further convinced of their appeal after the demonstration," he said.
Valencia said another demonstration impressed him. It involved attending a gun safety class followed by a shooting competition with lazer guns.
Desmarais said he was also impressed by the K-9 unit demonstration and was awed at the sheer strength of the dogs specially trained to serve in K-9 units. "One dog, a German Shepherd, pulled a 'perpetrator', who weighed about 300 pounds, out of a car," Desmarais recalled.
What the duo said was most important was the leadership class they attended, however. They said the class provided them with direction for Sunnyside Police Explorers Post 685.
Valencia has been an Explorer for approximately 11 months and Desmarais has been with the program for nearly 18 months. The pair of sergeants said they looked at ways in which they might help create a desire within the membership for better attendance at meetings and events. "We want them to feel like being here," said Desmarais.
He said the goal is to give fellow Explorers a sense of ownership in the program.
Desmarais went on to say another priority is for the post to develop a mission and vision statement.
Both Valencia and Desmarais agreed the conference provided them with experiences that will further help them make life decisions.
More like this story