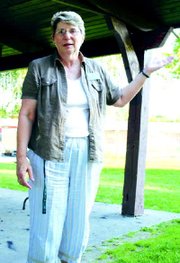 GRANDVIEW - At last night's awards ceremony and parent meeting for the Grandview Neptunes swim team, Grandview Councilwoman Joan Souders spoke regarding recent decisions regarding the city's budget.
She said she was once a swimmer herself and was on a swim team. As a result of her experience, Souders said it was difficult to make a decision regarding the pool closure slated for tomorrow (Thursday), Aug. 7.
"I know what it is like to be a swimmer," Souders stated.
She said two factors were considered when she voted to close the Grandview Municipal Pool early this summer. The first was the fact that pool use is at its lowest during the month of August, according to statistics. Souders said the second factor was the money involved in operating the pool.
She said her experience as a former lifeguard helped her understand the labor involved in operating a pool. "There are chemicals and staff to pay for," she stated.
To illustrate the issues involving the budget, Souders used three potatoes. The smallest potato represented the portion of the Grandview city budget utilized for general expenses.
She said the three funds in the city budget are the sewer and water fund, the street fund and the "current expense" fund.
Souders explained the sewer and water fund and the street fund can only be used by the city for the purposes stated...sewer and water and streets.
The general fund, on the other hand, is used for all city services. Souders said the general fund receives monies from grants, levies and initiatives. Those funds pay for police, fire, the library and parks and recreation "...all of which I call quality of life."
She said the fund took hits from the passage of I-695 and the one percent cap on property taxes.
"What those who sponsored I-695 didn't tell you was the largest portion of your car tab fees went toward current (city) expenses," said Souders.
She said the property tax cap hurt the city of Grandview by approximately $11,000 in funding loss.
"This makes it hard for the city to make tough decisions," Souders commented.
She said community members also have to take into consideration the impact of the recently voted down utility tax.
Souders stated the utility tax was what council members felt was the "fairest way" to come up with funding needed for city services.
She attributed the failure of the tax increase to the fact that she believes voters felt the city was not utilizing its money appropriately.
Souders said November will be a month in which city council members will need to look at ways to support various city services, such as the pool.
"We need people willing to help us make decisions...we need to find ways to keep our quality of life," she concluded.