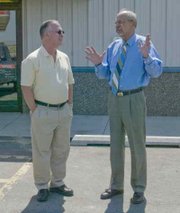 GRANDVIEW - Opening up America's coast to drilling, more investment in nuclear and hydropower, and expanding the nation's alternative energy sources are just some of the solutions to the country's energy crisis, U.S. Congressman Doc Hastings said while in the Lower Valley yesterday, Tuesday.
At the Bleyhl Farm Service's main office in Grandview, Hastings was visiting with Bleyhl General Manager Greg Robertson to see how the current energy crunch is affecting people in the "real world".
In town during what is known as the summer break for Congress, Hastings said he was disappointed in House Democrats, saying he thought it was irresponsible of them to leave on break without addressing energy issues affecting the country.
With regular gasoline hovering at about $4 a gallon, Hastings is a proponent of drilling offshore and in Alaska, and is frustrated by Democrats dragging their feet.
"We haven't even had a chance to vote on it," he said.
Acknowledging that drilling more oil will not solve the energy crisis, Hastings reiterated his stance on other sources for energy.
"Clearly we need to invest in more nuclear and hydropower," he said.
Hastings also said he would like to see more done with wind and solar energy sources.
"We're not going to get away from oil but we should become more independent," Hastings added.
Hastings has sponsored several bills he believes will produce more American made energy and lower prices. These include bills to expedite construction and licensing of new refineries in the United States, extend wind production tax credits and give tax incentives for new nuclear powered plants, and remove fuel-blend mandates that increase the price of gas.
Hastings was asked by the Daily Sun News why the government isn't promoting hydrogen fuel cell technology by offering tax credits to consumers who purchase vehicles using this technology or businesses who wish to build fueling stations for this technology.
He said while the information out there might not be broad enough, the federal government does have incentives in the form of tax credits for people who buy vehicles using alternative energy.
Hastings believes more emphasis will be put on these cars in the near future.
"There are two ways this could happen, either by government mandates or by government incentives," he explained. "This Congress will tell you, you have to do this. I'm for offering incentives."
Robertson said Hastings visited Bleyhl Farm Service to acquaint himself with the local firm, which is a major supplier of agricultural products to farmers in Central Washington. Robertson also spoke with Hastings about funding research for specialty crops in a future farm bill.