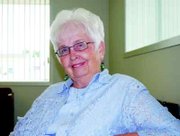 MABTON - More than 10 years ago Volunteer Coordinator Betty Carlyle left the Sunnyside School District for the Mabton School District.
Now, she is retiring from her position as volunteer coordinator at that school district to pursue involvement in faith-based organizations, such as Young Life, Transformation Sunnyside and Alpha studies at Sunnyside Presbyterian Church.
"I have a strong belief that God talks to me about these issues, leading me to believe it is time to move on," said Carlyle.
She said she has had a number of responsibilities working as the volunteer coordinator for Mabton School District. "I felt a love for all my responsibilities," she noted.
Following her desire to remain actively involved in the community, Carlyle said she also has plans of becoming active in the Sunnyside Daybreak Rotary Club, Beta Sigma Phi Sorority in Prosser and Sunnyside Nouvella Club, all of which she is already a member.
She is the program chairperson of Nouvella and has hopes of continuing the excellence in programs offered during club meetings.
Carlyle's retirement from the Mabton School District was official July 15, but she has remained with the "Feed the Brain" program offered to youngsters in the small community throughout the summer.
She said she felt an obligation to remain involved in the program because of her involvement in writing the grant for the program, which amounted to $4,000.
Carlyle wrote another $1,000 grant to assist youngsters involved in the summer program through Humanities Washington.
She said the youngsters have been provided with a literacy, cultural and nutrition education through the summer programs. "This year the programs highlighted American Indian and Mexican cultures," said Carlyle.
Carlyle has also been instrumental in establishing the Mabton Community Center. She partnered with others in establishing the center for the purpose of providing youngsters and seniors in the Mabton community with activities, literature opportunities, health education and nutrition programs.
"All that remains is the need of a ramp to make the center handicap accessible," she said, stating the center has the supplies but is in need of donated labor for the project.
Carlyle said her first Young Life meeting will take place this month, and she is looking forward to the challenges before her.
"It's just time to move on," she stated.