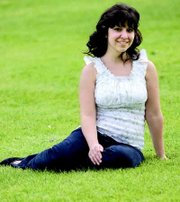 Crystal Rivera is a firm believer in family. That's why her goal is to create more family oriented recreational opportunities should she be selected to serve as Miss Sunnyside.
"I'm (going to work) with Sunnyside Parks and Recreation on a project called Family Night Out," she said. "Our goal is to form stronger relationships between parents and children by hosting an event one night a month at the community center."
Rivera said she's passionate about healthy families.
"I have a really strong relationship with my family," she explained. "I hope I'll be able to create stronger bonds between (parents and their children). Strong family ties affect children throughout their lives."
Not only does she feel tremendous affection for her mom and dad, Alicia and Manuel Rivera, but she describes little brother Manny Jr. as "the best brother in the world."
Rivera also has a passion for dance, which she's well known for. That's why when it comes to the talent portion of the program, she's planning a switcheroo: instead of dancing, Rivera's going to sing.
"I'll be singing 'This is my Now.' It's about putting your best foot forward and living your dream," she said.
Rivera's no stranger to the stage. "I've been performing in talent shows since I was 10."
Is she nervous? She said, "A little bit, but I like performing in front of people."
Rivera began her dancing career under the tutelage of Martin's School of Dance. When she entered Sunnyside High School, she became a member of the Grizzliette dance team. That first year, her team went to state and it's been her goal to go back ever since. This past year, she was elected choreography captain.
Serving in that capacity earned the Grizzliettes a first place trophy in competition.
Rivera has also played the flute for the past six years. She encourages others to become involved in band.
"It's a lot of fun and I've had some great experiences through it. I've been able to go to Disneyland and perform in the Lilac Parade."
The natural performer is also involved in drama. So far, she's been featured in two productions: Seussical the Musical and West Side Story. Her dancing performance in one of the plays earned her a trophy. This coming school year, she'll serve as drama club secretary.
When it comes to her future, Rivera is eyeballing a college relatively close to home.
"I plan on attending Washington State University and getting enrolled in their pre-med program," said Rivera. "I'll go there for four years and then get into med school."
Which avenue she actually pursues, though, is a toss-up.
"I haven't decided. It'll either be forensics, surgery or a paramedic."
Rivera's got an adventurous side, which prompted her to take auto mechanics at Sunnyside High School.
"I like new experiences and being in auto mechanics was interesting and different," she said. This coming school year, she'll try her hand at welding.
Rivera said of the Sunnyside community, "Even though we're such a small town, there are so many opportunities." Simply put, she said, "There's a lot to do.