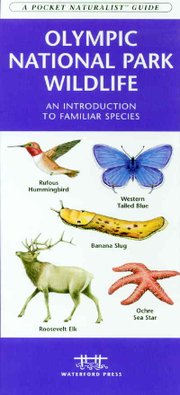 About the size of a compact city bus schedule, "Olympic National Park Wildlife" is a laminated pocket guide that easily fits in a backpack or even a back pocket.
The guide is about the same size as a #10 envelope, but unfolds to a width of 22 colorful inches to depict wildlife in the national park ranging from slugs to squirrels.
Olympic National Park covers a diverse terrain that includes ocean beaches, a rain forest and mountain peaks.
That diversity means a wide array of wildlife, and they are all represented in "Olympic National Park Wildlife," including snakes, frogs, elk, sea otters, butterflies and even skunks to name just a few.
Whether it be the Black-tailed Deer or a Deer Mouse, a Chestnut-backed Chickadee or the Purple Sea Urchin, the park's wildlife is covered with colorful detailed drawings and their approximate size.
"Olympic National Park Wildlife" is one of 250 pocket guide nature books published by Waterford Press of Phoenix, Ariz.
The laminated guide is made of durable card stock, making it even more of a fit for a hiker, biker or for someone on a leisurely nature walk through the park.
"Olympic National Park Wildlife" is available at a cost of $5.95 and can be purchased at www.waterfordpress.com