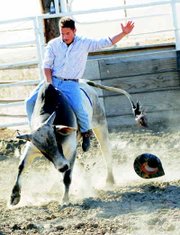 OUTLOOK - What has been a dream 10 years in the making finally became a reality this summer.
The Preciado family opened Rodeo La Centinela in June after spending years building the Outlook rodeo arena and four years obtaining the proper permits for the venue.
According to Aurelio Preciado Jr., his father has dreamed of providing community members and animal and rodeo fans with a venue in which families can enjoy themselves each week.
The Preciados also have a dream of providing youth with a positive outlet for activities, preventing them from becoming involved with lifestyles of destruction.
"Being involved in the rodeo can serve youth their whole lives," said Preciado, stating there are a number of careers involved with the rodeo.
He said working with animals is also a positive aspect of being involved in the rodeo.
The Preciados feature a number of entertainment opportunities for those in attendance at the rodeo, which takes place each Sunday, with the exception of a few Saturdays.
Preciado said entry fees at the rodeo serve to provide those entertainment opportunities. Depending on the featured band, entry fees vary from $10 to $50 per person each week. "Kids 10 and under are always free because it is supposed to be a family event," he clarified.
He said the dream for the future of Rodeo La Centinela is to provide more rodeo events focused on youth. To do so, he is in the process of establishing a non-profit organization offering rodeo events free for young participants.
"My dad worked on the facility and we now have people from all over the state who come to participate or watch the events," said Preciado, explaining Sunday, Aug. 17, there will be livestock owners from as far away as Salem, Ore. at the "Bull-O-Rama" to take place on that date.
Using this coming Sunday's event as an example, Preciado said there will be 15 bull riders from the Professional Rodeo Cowboys Association, Women's Professional Rodeo Association and local riders riding 30 bulls.
He said the bull rider with the most points will be awarded a $2,000 purse and the best livestock owner will leave with $3,000.
But, Rodeo La Centinela has not been worry-free this first summer in operation. The Preciados have met with opposition. "We were told the music was too loud and obnoxious," said Preciado.
He said he doesn't understand the complaints because the rodeo closes at dusk and "...we try to be respectful of our neighbors."
Preciado said the family has been concerned with the noise levels and they have turned the music down.
He added there is security and two Yakima County Sheriff's deputies at each event. "If there is a problem, the Sheriff's department would be the first to take care of it," said Preciado, emphasizing his point by stating there haven't been any fights at any of the events this summer, either.
Right now, the Preciados are focused on establishing a venue with a positive reputation for clean, family fun.
Preciado said the rodeo has clowns, vendors with catering licenses, bull riding and Charros.
"We want to engage the crowd, keeping available opportunities for community members to be entertained," he said.
The senior Preciado stated, "Yes, it's a business...but, it is intended to provide entertainment and bring out-of-town business to the community."
Preciado Jr. said his family wishes to boost local morale and provide a local attraction, giving those from outside the Sunnyside/Outlook area a reason to visit the community.
He said the family also wishes to give riders and livestock owners a venue to show their skills and the animals with hopes of building corrals and stables for animals in need of a training facility.
"We want to give them opportunities they may not already have to train and house the animals," said Preciado.
Rodeos are popular to people of all backgrounds and the Preciados hope to provide a venue that will continue to grow in popularity.
Preciado said those wanting to know event dates and times can visit the Rodeo la Centinela MySpace site.
Gates open at 2 p.m. for the Aug. 17 event and the rodeo begins at 3 p.m. Admission for the event will be $15 per person. The rodeo grounds are located on Gap Road near Outlook.
. Jennie McGhan can be contacted at (509) 837-4500, or e-mail her at jmcghan@eaglenewspapers.com