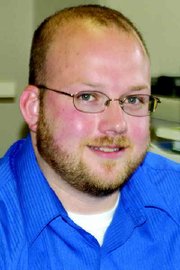 Curtis Campbell is now serving as the Sunnyside School District's community relations director. Campbell took the position little more than a week ago.
Campbell grew up in Sunnyside and recently moved back to the area after his wife Annette was hired as a Sun Valley Elementary School counselor.
Campbell said it's good to be back in his hometown.
"The size of the town makes it possible to have some sort of connection with everybody," said Campbell.
In a matter of speaking, Campbell has come full circle.
"I started in kindergarten in this building and now I'm back working in it," he said of the district administration office.
Campbell first became interested in public relations work while working under the direction of Cus Arteaga of Grandview's public works department.
Campbell obtained a graduate degree in public administration in June 2007. After that, he stayed home for a year taking care of his newborn son, Riley, who's approaching his first birthday.
"It's something I really enjoyed doing. It was a great experience and he's awesome," said Campbell.
Another interesting tidbit in Campbell's background is the fact that he was opinion editor of the Easterner, an Eastern Washington University newspaper. While there, he received his undergraduate degree in government.
Campbell said he learned the school district position was open when Mrs. Campbell was hired by the district. "I thought this would be perfect for me," he said. "It's just something I really wanted to do."
His job duties will include designing district publications, serving as a liaison for the district and media, advising the school board, crisis control and working with district principals to send a positive message about what's going on in area schools.