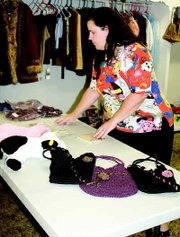 GRANDVIEW - A myriad of treasures awaits eager shoppers at Grandview's newly opened mini-mall, Trinkets and Treasures, in downtown Grandview.
The business, located on Division Street and the former home to Mahoney & Sons, is the brain child of Judy and Mel Knight of Prosser.
The Knights previously operated a consignment store on Second Street, next to Cliff's T.V. After accumulating 38 consignors of gently used treasures, the couple decided it was time to move to a bigger building.
"We did really well over there (at the previous location) and I liked it," said Mrs. Knight. "We opened (there) on Aug. 15 of last year and we just outgrew it. We kept getting more and more consignments."
How the large building at 140 Division Street is set up is that the Knights' items, and their consignors' items, are located to one side. On the other side, there are several different vendors renting space.
Vendors include Dot Marple, Betty Conklin, Marilyn Baty, Gene and Barb Campbell and Sue Eucker.
Marple specializes in items like crystal and antiques. Conklin specializes in dolls and jewelry. Eucker operates Susie's Gifts. The Campbells sell furniture and Baty's line includes trendy purses, clothes and jewelry. And, coming soon Knight said, is Irma's Cookie Corner.
Simply put, there's something for everyone.
The Knights decided to go into the consignment business after Mrs. Knight retired.
"My husband decided it was time for me to do something. I was talking to the dogs a little bit too much," joked Mrs. Knight. "I enjoy yard (sales) and collecting all kinds of stuff."
Eventually, she decided she had too much. "I had three storage buildings, so we opened up a consignment store."
For the Knights' part of the business, consignors bring in items in good condition and she sells them, keeping 50 percent of the profit. The consignors pick up their check on the 10th of every month.
Knight is always on the look-out for new consignors. "All we ask is that the items are in good condition," she emphasized. "Clean and not chipped or broken, or missing buttons or zippers."
She said it's a great alternative for someone who doesn't want to have a yard sale.
She also accepts donations from people who don't want to consign. In that situation, a certain percentage of the money from items sold go to a Relay for Life team, the "Wanna Bees," which is the shortened version of "Wanna Bee Free From Cancer."
On the vendor side of the business, vendors simply pay rent on their spaces each month. Knight mans the store.
Knight said she has room for just one more vendor in the mini-mall.
Knight is currently open daily from 11 a.m. to 6 p.m. But that will change as soon as she gauges the slowest day of the week so she can have time off.
For more information about becoming a vendor or consignor, call Knight at 781-0933.