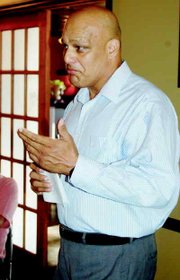 MABTON - It was a tense gathering at the regularly scheduled Mabton City Council meeting last night, Tuesday, in which the mayor became defensive with the standing-room only crowd.
Topics at the gathering, which was run more like a town hall forum than the meeting of a legislative body, included spiked water bills, code enforcement problems, graffiti issues and bad publicity for Mabton.
The water bill issue was addressed by many citizens, including Natalie Palomarez. She said her mother's bill increased during the most recent billing cycle and she was having difficulty finding out why.
At the mayor's request, utility billing clerk Yolanda Carrasco explained to the crowd that there was a billing snafu due to her vacation.
"I was going on vacation and told bills had to be done because no one else could do it," explained Carrasco, adding that when she came back, public works still hadn't read the meters and it took them an additional week to get it done because they were busy with street repairs at the time.
For this reason, Carrasco said, the July water bills reflect usage for 45 days, therefore they are higher.
Herrera told the crowd that in order to avoid a situation like this in the future, a meter-read schedule has been created and will be followed by public works.
Palomarez also addressed code enforcement, asking what it would take to get a property owner to improve public nuisance problems, like weeds and excess junk vehicles.
Police Chief Robert Perales told her the most expeditious way to handle that type of situation is to fill out a complaint at city hall. He said that works much faster than having police officers try to work code enforcement when the police department is currently experiencing staffing issues.
Some situations weren't easily explained.
Citizen Maria Rose blasted the council for making negative issues public and responding to the press when they call.
An example given was the information learned at a meeting last month that the police chief's salary had been more than doubled, his hours increased from 20 to 40, without council approval.
Rose said that in printed articles, it appears as though the mayor and council are "going at it in public." She admonished council for not responding privately.
Councilwoman Vera Zavala said of responding to media, "I do feel I have the right to my opinion and I'm going to give it."
Councilman Mario Martinez echoed that sentiment when he said, "If media calls, we have a responsibility (to respond)."
Martinez also said that he felt he had every reason to be concerned publicly about the police chief's increase in pay because as of last night's meeting, not a single dollar of what's been put into police department salaries and benefits is reflected on an accurate, up-to-date quarterly report.
"We can't go around making decisions, bumping up costs, until we know what we're spending month to month," Martinez said, emphasizing that the only financial report he has seen is for January through March 2008 and indicates the city only had, as of March, $31,000 in the current expense fund. That is the fund, he said, used for police and fire.
Rose fired back, "It comes across that in no way was the budget touched."
Martinez responded, "How can you say that when we don't even know what's been spent?"
Citizen Abel Orozco said that council needs to work together, much like a household, to which Zavala responded that council sets the budget "but that doesn't mean it's being followed."
Herrera interjected that it was important to note that emergency situations occurred at the wastewater treatment plant this year, repairs needed to be done, and this money wasn't factored into the budget.
Herrera then raised her shaking voice and returned to the subject of media, saying that she felt it was a waste of her time to talk to a television news reporter for 30-minutes when only a fraction of what she said would be aired. "I don't talk to the media anymore, it doesn't do any good," she said.
"I'm doing the best I can with what I've got," she said, voice quivering, adding that as mayor she only earns 31¢ an hour.
"Do I commit myself to being a mayor in this town?" she asked, to which her supporters in the audience responded somewhat like a church revival with a chorus of, "Yes, you do!"
She then pointed to individual council members, one by one, saying each was going to disagree with her.
Of the city, she said, "We're going to run it. We're going to run it the way we can.