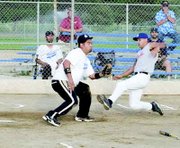 Long ball was the name of the game last night as players from the National and American leagues blasted 20 home runs in the annual Lower Valley Men's Slowpitch Association's all-star game.
The American League players bested their rivals in home runs 11 to 9, and pounded out 43 hits on their way to a 37-20 win over the National League.
Jeff Jensen went the distance on the pitching rubber for the American League, giving up 28 hits and allowing one walk.
The National League went through four pitchers to try to stop the flow of hits the American League was getting.
"It really didn't matter," said Bob Sarmiento Sr., executive director of the Lower Valley Men's Slowpitch Association. "Those guys were hitting everything."
The game was close after one inning with the American League leading by just one run, 3-2. But in the second and third innings the American League opened things up, outscoring their National League counterparts 18 to 7 to go up 21-9 after three innings.
The National League outscored the Americans 6 to 2 in the fourth inning but were then outscored 14 to 5 in the last five innings of play.
Leading the way for the American League was Emmanuel Pedroza, who went 6-for-6 with one home run and six RBIs. Teammates Fidel Castro Jr. and Roger Filander were 5-for-6 on the night. Lino Guttierrez was 4-for-6 with two home runs and eight RBIs. Teammates Alfonso Lopez and Bob Garza were also 4-for-6. Jensen and Ace Pedroza both finished the night for the American League hitting 4-for-5.
The National League was led by Dave Palomarez, who was 3-for-5 with three home runs and eight RBIs. Bob Sarmiento Jr. hit 3-for-3 with two home runs and five RBIs. Jeff Bentley, Derek Uberuaga and Anthony Palomarez were 3-for-5. Teammates Terry Shale and J.J. Waterman were 3-for-4.
MVPs for the game were Palomarez from the National League and Kevin McClure from the American League.
McClure was 2-for-6 with one home run and three RBIs but made several key plays at third base to thwart rallying attempts by the National League.
The nine teams in the league were also given their trophies last night after the game.
Coming in first place was New Era, followed by El Valle, Team Crush, Beltman Construction/Brown Sox, Lower Valley Merchants, The Tribes, Safari Restaurant, Team Softball and Guns and Hoses.
"We had a pretty good crowd," Sarmiento Sr. said. "It was a good time.