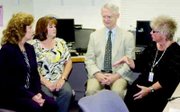 PROSSER - Secretary of State Sam Reed stopped off in Prosser yesterday during a statewide media tour to address Washington's brand new top primary, release his voter turn-out prediction and explain the state's MyVote program, an online customized individual voter information center.
"We're one week away from a historic primary election," Reed said. "It'll be the first top two primary in our state's history."
Reed said that when the state switched to the pick-a-party form of voting, voters were up in arms.
"I was getting emails every two seconds. When people do emails, they don't hold back." He said his office had to hire temps to take the unhappy phone calls.
He said now that the state has switched to the top two primary, it's a much smoother transition and fits the state's political heritage and culture.
"It feels good to be able to vote for the person, not the party," he added. "While political parties have rights, they do not trump the will of the people."
Franklin County Auditor Zona Lenhart echoed that sentiment. "I don't think we should mess with people's rights to do things for themselves."
Reed lauded the new MyVote voter education website. According to information provided by Reed, MyVote gives personalized voter information: voter status, voter's pamphlet entries in the voter's district, ballot dropbox sites, voting history and contact information for federal, state, local and judicial officials, including websites and email addresses.
"This is the best voter information system I've ever seen," said Reed.
It can be accessed by visiting Reed's website at www.vote.wa.gov and clicking on MyVote. All the user needs is his or her name and birth date.
Reed said, "Also very important to county auditors is (the fact that) it gives you the opportunity to update your address."
Added Reed, "It's the kind of system voters really needed."
Reed is also engaging younger generations by encouraging them to use social media, like myspace.com and youtube.com to post fun pictures holding a sign that says, "I will vote."
The goal, he said, is to get people to pledge to vote in the top two primary and general election.
"I Will Vote is empowering voters to interact with their government and each other," Reed said in a press release. "I have long said 'Your vote is your choice.' Thanks to new technology, people from all over the state and in all walks have the chance to have their voices heard in the large public forum and inspire each other."
Visitors to www.vote.wa.gov can upload their "I Will Vote" photos, rank photos submitted by others, search for submissions by zip code and name and invite friends to join.
Reed said the most popular voter-ranked photos are displayed on the main page.