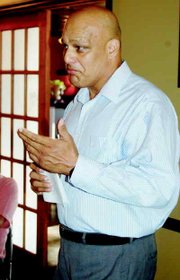 Recently named director of Transformation Sunnyside, Roberto Matus told Daybreak Rotary Club members in Sunnyside this morning, Wednesday, that the Christian organization plans to help those in need by "stop giving fish and give them the tools to fish on their own."
Matus said he made his first Transformation Sunnyside presentation 18 months ago to the Daybreak Rotary. During that time, Matus said the group has made progress to the point that a board of directors will be named.
Matus has resigned from the Grandview Salvation Army and begins work for Transformation Sunnyside on Sept. 2.
He said Transformation Sunnyside is involved in praying for Sunnyside and wants to change the "paradigm" of Christian outreach.
Matus said the "Great Commission" in the Bible is often seen as converting, transforming, one person at a time. Matus, however, said Transformation Sunnyside is about transforming a whole community.
He said another shift in thinking proposed by the group is to turn away from what Matus called a "top down" leadership format. Instead, Matus says Transformation Sunnyside is calling for "servant leadership," for people to lead by serving in the example of Jesus.
Transformation Sunnyside also aims to gather an inventory of abilities and items that can be used as a blessing to the community. Transformation Sunnyside member Ed Werkhoven, for example, has extra office space at his business that will be used by Matus as a director's office.
"God has given every person a gift," Matus says. Transforming Sunnyside, he adds, requires that every person be willing to pray and use their abilities in the community.
A lot has happened in the past 18 months, noted Matus, and there's even more to come for Transformation Sunnyside.
"It's the next best thing God has given this community," he said.