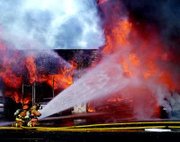 A fire quickly engulfed In and Out Auto Service and Ruiz Mobile Auto Detailing this morning, Thursday, and destroyed both downtown Sunnyside businesses in the 300 block of South Sixth Street.
According to Sunnyside Fire Chief Aaron Markham, when firefighters arrived on the scene at approximately 8:45 a.m., the fire was only in the middle part of the building but quickly spread throughout the ceiling, engulfing the entire building.
Both Ivan Ruiz, who owns the auto detailing business, and Jose Luis Arroyo, the owner of the auto service business, were away at the time of the fire.
Arroyo said a man was in the building changing a fuel pump on his vehicle when he went to use the restroom. He had been using an impact gun and when he returned the fire had started. Arroyo speculated the impact gun shorted out and ignited gas leaking from the fuel pump. The man suffered burns trying to put the fire out and later went to Sunnyside Community Hospital after being treated by paramedics on the scene.
The fire sent huge plumes of billowing black smoke into the sky, sometimes engulfing the curious onlookers that gathered to watch the blaze, which could be seen for miles. At one point flames were visible from three blocks away.
Three cars were inside the building at the time and several explosions could be heard. Fifteen vehicles were parked around the building and at least four were visibly on fire. Arroyo said the vehicles belonged to customers.
Markham said the building is more than likely a total loss but couldn't give an estimate of monetary damage at the time.
Three fire engines from Sunnyside, one from Grandview and more than 20 firefighters responded to the fire alarm.