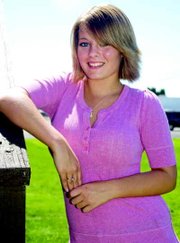 When Anita Tadlock was just a little girl, she was crowned Tiny Miss Sunnyside. Ever since then, she's been eager to vie for the title of Miss Sunnyside. The 16-year-old Sunnyside High School student will get her chance this coming September.
Should she be crowned Miss Sunnyside, Tadlock hopes to focus her community service project around the Lower Valley Crisis Center.
That desire sprang out of a conversation with her grandmother, Sunnyside Port Manager Amber Hansen.
"I was talking to her and she knows (crisis center director) Julia Hart. She told me how much they do there," said Tadlock.
Tadlock narrowly escaped crisis at an early age when a man attempted to abduct her while she was waiting for the school bus.
"It was very scary and it was bad because I was supposed to go on vacation a week or two after it happened with my family to Las Vegas. I didn't want to go anywhere," she recalled.
Tadlock hopes to collect household items, toys and used cell phones for the crisis center, which will benefit crisis victims.
Tadlock said the center is already collecting cell phones, but she'd like to have a hand in creating more publicity for that particular program.
And, she added, "They want a sandbox for kids (at the safe house for victims) and I'd like to help them get that."
For the talent portion of the pageant, Tadlock will sing "Only Hope," a song by Mandy Moore that was featured in the movie "A Walk to Remember."
Tadlock has been singing for the past year in the Neighborhood Assembly of God Church.
"It's fun. It's challenging sometimes," she said. "I have stage fright, but I'm working on that with my mom. She's also a singer."
Tadlock is the daughter of Darrell and Sarah Tadlock of Sunnyside.
During the summer, Tadlock is busy with the swim team and her church.
"It kind of drives my dad insane because I'm hardly ever home," she said.
Her best subjects at school are math and English, but she's slightly hesitant as to whether or not a career in writing is also in store for her. But when it comes to math she explained, "In my family, we're a bunch of math nerds."
This coming school year, she'll be a Link Crew member, helping incoming freshmen learn the ropes at Sunnyside High School. "You have a group of about 10 students you get to know and watch out for, see how they're doing."
In her spare time, Tadlock enjoys photography and scary movies. She also enjoys playing the guitar.
Her post-high school plans include attending New York University and majoring in photography. She has her own digital camera, but enjoys borrowing her grandfather's 35-millimeter camera.
Tadlock has participated in the Yakima Herald-Republic's photography apprenticeship program through the Unleashed section.
"You spend a day going around with a photojournalist (taking pictures), then you pick your best one and they crop it for you and it gets published," she explained.
Her sponsors for the pageant are Elite Towing and her uncle, St. Clair Woodworth.