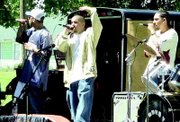 Sunnyside has been the stomping grounds of such notable figures as Bonnie Dunbar, Scott Linehan, Evel Knievel and Kristina Guerrero.
With a little luck three more Sunnyside natives will join that list.
They are the Young Ridaz, comprised of Bob "Bob N' Hood" Garza, Ivan "Young Blaze" Garza and Josue "Juice" Garza, three brothers from Sunnyside who happen to have a knack for street poetry.
Bob N' Hood, Young Blaze and Juice are currently touring as much as they can in support of their debut CD, Foreign Exchange, released in November of 2007.
They tour when they can because like most of us, they have to work a 9 to 5 job to make ends meet. So gigging and touring is strictly a weekend thing for the time being.
The Young Ridaz came into this world with musical genes, having a musician for a father. All three can remember their dad playing music on the weekends.
Juice, the middle brother and a 1995 Sunnyside High School graduate, was the first to turn to performing. While still in high school Juice started to put his poems he had been writing for a while, to music.
"He was always really good at expressing himself on paper," Bob N' Hood said of his brother's natural knack for writing.
Juice used this knack to learn how to rap.
"I had a big collection of music," Juice recalled. "I would write down all the words to the songs and rap with the music. I learned that way."
With his rapping and writing skills honed from 10 years of practicing and performing, Juice got his break in 2003 when he released his single Thug Girl.
That single should have turned into a full-length CD but the deal with his label fell through.
As fate would have it though, Juice met another music label producer while doing his single and agreed to a one-year contract. From this agreement the 16 track The Sunrise was released.
"That one did pretty well," Juice added.
With a small label and hardly any exposure Juice turned to the internet to build a reputation. Sites like myspace allowed him to reach a bigger audience and sites like CD Baby allowed him to sell The Sunrise.
The album was also sold in local music stores like Hastings.
According to Young Blaze, his brother Juice has influenced a lot of younger rappers in the Sunnyside area. The two most important people he's influenced though, would have to be his brothers, Young Blaze and Bob N' Hood.
Juice always had the support of his family but it was during The Sunrise period that his brothers started taking a more active role with his music.
They started backing Juice up on vocals at shows and the progression was natural.
The result is Foreign Exchange, a 14-track album that the brothers claim has at least one song for everyone.
Holed up in Grandview at Juice's home studio, the brothers recorded the album based on their experiences in the Yakima Lower Valley. They have their own label and are also distributing the CD.
Young Blaze explained that the group finds the beats they like and then purchase the music. With Juice and Young Blaze rapping, Bob N' Hood provides the vocals. They tackle each song as it were a script. The beat is listened to and then each section of the song is planned out.
Once the tracks are laid, the songs are sometimes sent to other guest artists and additional tracks are added. This method has allowed the Young Ridaz to work with artists from such places as Norway and California, without leaving the Yakima Valley.
Their efforts have paid off. The Young Ridaz have had more than 38,000 visits to their myspace page. They boast 2,500 friends on the website and have had more than 40,000 music plays from the album.
"Getting together was the best thing that could have happened to us as brothers," Juice claimed.
The music business is full of traps and working with family, the Young Ridaz don't have to worry about that.
The internet has brought the Young Ridaz' style of music to fans in Japan, Canada, France, Italy and other countries around the world.
Their crowning moment might have been performing at the Nuevo Leon Music Festival in Mexico, their father's home town.
At the festival the Young Ridaz were recognized for the their contributions to music.
Bob N' Hood, Juice and Young Blaze are excited about their prospects, noting that they didn't create this album to sleep on it. But they also have realistic expectations.
They have the support of their family, a solid local fan base and they are making music. For now that's enough.
But they shouldn't be surprised if the world wants a little more.