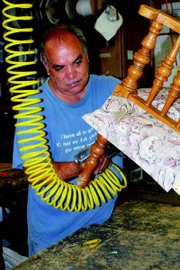 Upholstering furniture and interiors has been a lifelong trade for Rick Melendrez of Rick's Upholstery and Glass.
He's the son of migrant farm workers and found his skills in upholstery to be rewarding when he was young.
"I love this job and wouldn't want to do anything else, unless I won the lottery...then, I'd pass the shop on to my wife," Melendrez joked.
He said he began upholstering at Sunnyside's H&H Auto Glass and Upholstery in the 1970s. Discovering he possessed skills and a love of the work he was doing, Melendrez began his own business approximately 24 years ago.
He hasn't looked back, nor has he desired anything different in his life, he said.
During Melendrez's years of providing customers with custom upholstery for their furniture and automobiles, he spent a year instructing students at Perry Technical Institute in Yakima on the art form.
He said he enjoys the work because there is a wide variety of jobs. There are weeks when he can work on 20 different items, ranging from furniture to boats, automobiles to installing carpeting in a truck. "It's never the same," said Melendrez.
He stated some jobs can be grueling because of the deadlines involved in completing them. Usually tight deadlines are involved in custom design interiors for show vehicles and Melendrez said he can spend up to 14 hours a day on one job.
"But, it is worthwhile to see the expression on a customer's face," he commented, stating the rewards of his job involve transforming an item from something lacking to something beautiful. He said a customer's reaction often makes him feel good, providing him a sense of pride in his work.
"They sometimes cannot believe the finished product is the same item they brought to me," Melendrez explained.
He said there have been changes in fabric preferences over the years, stating there are more textures, styles and designs than there were when he began. He said about 15 years ago all interior preferences were vinyl "...usually three or four colors were involved. Now, people tend to go back to stock interiors."
Melendrez said people have asked him if he has a lot of personal time since he owns his own business. He said he really doesn't have much time and "...vacations are obsolete."
He said owning his own business is demanding, but the rewards outweigh all the responsibility and time involved in doing what he does.
"It's funny, because in my business there are a lot of surprises...women can bring in a purse or a high heel for a repair on a strap," Melendrez said, stating those cases generally involve a favorite purse or shoe. He said customers bring other items to him for repair, too...things that are generally not included in interiors of homes or vehicles.
Overall, Melendrez said his work is both rewarding and provides him with a sense of accomplishment. "It is a fun job," he noted.