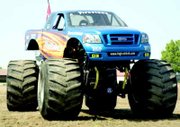 Firestone's Bigfoot car crusher made a stop in Sunnyside this past Friday and Saturday at Sunnyside Commercial Tire.
The stop was part of a promotional tour, said driver Larry Swim of Desoto, Mo.
He said the truck is owned by Bob and Marilyn Chandler, also of Missouri.
"We're doing a program for Commercial Tire," he said. "It gives fans a chance to get up close to the truck, it's a little more personal that way."
He said the tour is more laid back than competing in arenas crushing cars.
The Bigfoot truck isn't road friendly, in fact, it's a long way from being legal on the roadway.
For that reason, Swim hauls it in a semi-truck, which also features his living quarters for when he's on tour.
Swim is currently on tour for six weeks. Next he'll stop in Utah, then it's off to home for two weeks.
After that, he says, it's off to a race in Georgia.
He said the goal of the race is to get to the finish line first. But holding the driver up is the fact that Bigfoot must traverse over junk cars to get to the finish line.
"It's a blast," said Swim. "I'm basically living a dream. Not many people can say that, but I can."
On Saturday, Swim drove over four junk cars donated by TP Auto Wrecking in Outlook, performing for a crowd of roughly 300 locals.
For more information, visit www.bigfoot4x4.com.
Lynda Jo Gross/Daily Sun News
Sunnyside Commercial Tire's Joel Anderson works the grill at the store this past Saturday, while the Bigfoot car crusher was on display.
Lynda Jo Gross/Daily Sun News
About 300 or so locals trekked to Sunnyside's Commercial Tire this past Saturday to watch it crush four cars.