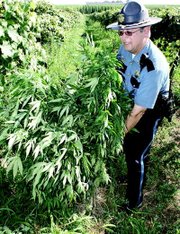 The LEAD Task Force notched three more pot busts last week, all in vineyards.
The most recent bust of a marijuana-growing operation happened last Friday in the 1,000 block of Vance Road near Mabton.
Detective Akins with LEAD said two males were arrested after approximately 13,000 marijuana plants were found in a vineyard on the property. Some of the 13,000 plants were found in an out building being dried.
In last Thursday's bust, detectives from the LEAD Task Force investigated a report of a grow operation in the area of Van Belle and Bethany roads near Sunnyside. One individual was arrested in connection to the operation and approximately 5,000 marijuana plants were seized.
In last Wednesday's bust, a grow operation in the 2200 block of Olmstead Road in Grandview was discovered. Detectives were able to arrest five individuals in connection with the marijuana grow and 4,000 plants were seized.
Besides LEAD detectives, the task force was assisted by the Washington State National Guard, WSP, Yakima Sheriff's deputies, and members of the Mabton and Grandview police departments.
Mabton Police Chief Robert Perales said it was good to see citizens taking a stand against illegal drugs to get them out of their neighborhoods.
He said citizens coming into his police department gave information that led to the Van Belle operation being busted.
"We've been really successful lately," he said. "People have been coming forward with information. It's nice to see this information pan out and lead to some arrests."