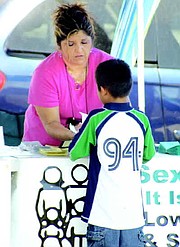 In an effort to promote medical insurance for every child in Washington, the state's Apple Health For Kids Campaign made a promotional stop in Sunnyside this past Friday.
According to Sunnyside Community Hospital communications director Tom Lathen, Gov. Christine Gregoire and the state legislature approved a "Cover All Kids" bill last year to improve the health of children in the state and to get them all covered by insurance by 2010.
According to Jim Stevenson, communications director for the Medicaid program, the states of Illinois and Massachusetts pioneered the program.
All of the state's insurance programs are under one umbrella under the program, he said, and its not up to parents to hassle with program selection.
"We'll figure out which (plan)," he said, adding that the point is, "We have a plan for that kid in our coverage."
He said the state has worked hard to make the process as simple and streamlined as possible. In fact, the paperwork alone now comes on one sheet, front and back, and has a return envelope connected to it.
Stevenson said there are approximately 75,000 children in the state who aren't insured, 6,800 of which hail from the Yakima Valley.
Ironically, says Stevenson, "Most of them can meet the standards and be eligible."
That's a hurdle the state is fighting to overcome.
"Families don't believe they are eligible and don't bother to check out what the requirements are.
"Even if you think you aren't eligible, you probably are," he said. "That's the purpose of this campaign."
He said families at 250 percent of the federal poverty level qualify, and that will change to 300 percent by Jan. 1.
He said entities like farm workers clinics and medical clinics have been particularly helpful in getting the word out.
"They're the people who are where the rubber meets the road," he said.
The Washington Apple Health For Kids Campaign bus parked at Comprehensive Mental Health's parking lot in Sunnyside on Friday during a mini-health fair of sorts, featuring booths like the crisis center.
Lynda Jo Gross/Daily Sun News
The Washington Apple Health For Kids Campaign is in full swing. The tour bus is traveling to various areas in the state promoting insurance coverage for all kids