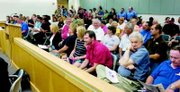 A scary picture was painted for Sunnyside residents last night, Monday, at a special budget meeting held by the Sunnyside City Council.
That picture included graffiti riddled buildings, junk cars, overgrown weeds, bare and dry parks, and cracked, pot-holed streets.
This is what residents were told to brace for as the city tries to trim $1.1 million from the 2009 projected budget to bring it into balance.
Last night's meeting gave Sunnyside City Manager Eric Swansen a chance to give the city council his budget cut proposals and for the citizens to give their input as well.
Swansen encouraged the standing room only audience to listen, learn, engage and respect.
"There are no right or wrong answers to the difficult choices we have to make," he said.
Noting that individuals have differing values, interests and wants, Swansen told the gathered citizens it was okay to differ in opinion, but told them a decision needed to be made and the sooner the better.
There are many reasons why the city is in the situation it is in, including expenditures increasing faster than incoming revenues, changes in federal and state programs, and revenue sources being eliminated.
From 2003 to 2007, the city spent more than it took in four of the five years. This has eroded the general fund balance to the point that serious cuts now need to be made.
Revenues are expected to be down 0.6 percent in 2009. Part of that is blamed on limiting property tax increases to only one percent and sales tax revenues decreasing slightly.
Costs are expected to jump 7.6 percent in 2009, mostly from fuel and personnel costs.
"We can not spend money we don't have," Swansen said.
To fix the problem Swansen offered short-term and long-term solutions.
For the short term, however, cuts in spending must be implemented and new revenues found.
To do this, Swansen recommends several things, including eliminating two Sunnyside police officers, one detective and the animal control contract.
This move would save $220,167 in 2009 with an ongoing savings of $292,350 after 2009.
By cutting three positions in the police department, day shift patrols would be cut in half. The public will likely see longer times to receive service from the police department.
The loss of a police detective would mean low-priority cases most likely would not be investigated. Since emphasis is put on personal crimes this would result in less case work on property crimes.
With the loss of the animal control officer, only calls for dangerous animals would be responded to.
Swansen also recommends cutting one building plans examiner, two building code enforcement officers and a building secretary/permit coordinator from the building department.
This would free up $187,064 from the 2009 budget with an ongoing savings of $263,274 each year after that.
With the plans examiner position eliminated people will see longer permit processing times and longer lead times for inspections.
Because of the two code enforcement officers being eliminated, residents of Sunnyside will see more graffiti, more weeds and overgrown vegetation.
Swansen also wants to transfer three street maintenance workers to the storm water fund, a move that will free up $202,445 in 2009 and beyond. This will drop the pavement quality in Sunnyside and increase deferred maintenance costs.
In the parks and recreation departments, Swansen recommends eliminating two parks maintenance workers, saving $110,047 from the 2009 budget and $158,558 in ongoing annual savings. The participant recreation program would also be eliminated, saving the city $154,951.
Irrigation in the parks would cease, which would include the amount of mowing needed. Any mowing would have to be performed by community service or jail labor.
Although parks will not be maintained and recreation programs eliminated, the pool will remain open in a shortened season under Swansen's recommendations.
The recreation center will be closed for all non-reserved functions.
These cuts do not equal $1.1 million and the city will need to cut an additional $221,836 or find that in revenues.
Possible revenue the city can collect would include a 6 percent utility tax from the Port of Sunnyside's wastewater plant operations. This would bring in nearly $200,000 annually.
The city can also increase the city utility tax from 6 percent to whatever they would like. Leases and fees can also be increased.
"Toppenish raised theirs to 38 percent," Swansen said. "Pick a number and that's what we can raise it to."
Eighteen people from the standing room crowd chose to speak to council during the public comment portion, with most of them aghast at the proposed cuts to the police force.
Sister Mary Rita Rohde, director of Nuesta Casa in Sunnyside, said she is concerned about the children of Sunnyside.
She noted by taking away parks and recreation more kids will turn to criminal activities.
"So we're taking away some police officers," she said, adding that didn't make sense.
Sunnyside Police Detective John Chumley told the council these cuts would affect real people, including the police department. He also noted these cuts can put the lives of police officers in danger.
One after one the city council heard people plead with them not to deplete the police force.
Jim Slinker told the council he's not afraid of taxes and was willing to pay more to keep city services, a sentiment echoed by many.
Council directed Swansen to try to come up with alternative solutions to the cuts, but most agreed it's not feasible to keep the code enforcement employees on staff.
Council also wants to know how much of an increase in city utility taxes would be needed to stave off some of the proposed cuts.
Most of the council also wanted more town-hall style meetings with Sunnyside citizens to get input on what should be cut and what should be saved.