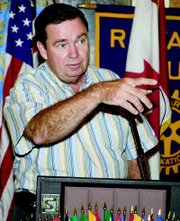 In an indication of what's to come, Yakima County Commissioner Rand Elliot told the Sunnyside Noon Rotary Club yesterday, Monday, to expect slower services from the county in the near future.
With costs climbing faster than current revenues can handle, Elliot said at some time the county is going to have to bite the bullet and make some cuts.
"You're going to see fewer people working for the county," Elliot predicted. "We will have to do the job with fewer people."
This means services provided by Yakima County will suffer and things will take longer to get done.
"It's lean times," he stated. "Don't be surprised if it starts to affect you."
Elliot also told Rotarians that the three-tenths of one percent law and justice tax has received a lot of discussion. This tax funds approximately eight deputies in the Yakima County Sheriff's office. Elliot said he suspects the tax, which ends Dec. 31, 2010, will make its way onto the ballot sometime in 2009. This way, in case voters say no, county commissioners will have time to find money to keep the deputies.
"We're hoping voters will support it," Elliot said.
He noted it is an election year and that the infamous fourth floor of the courthouse, which houses the planning and permitting department, is a favorite target.
Elliot told the Rotarians the commissioners are working on improving things on the fourth floor, adding that some people are being juggled around to make the department more efficient.
He also spoke briefly about the log jam in Yakima courts, blaming most of the problems on lawyers who keep filing extensions for their clients.
"It's a stall tactic and the courts are starting to get on to that," he said.
Ron Zirkle, Yakima County's prosecutor, will be leaving at the end of this year and Elliot said the commissioners will be appointing a replacement to fulfill Zirkle's term, which runs until the end of 2009.
A new sheriff's substation was also mentioned by Elliot. The commissioner said the sheriff's office is hoping to get started by the end of 2008 on a new substation in Zillah.
In news directly related to Sunnyside, Elliot spoke briefly about a deal the port of Sunnyside is working on. Elliot said in cooperation with the Yakima County Development Association, the port is trying to attract a large distribution center to the area.
"We're very hopeful the port is able to get that done," he said.