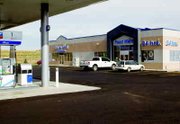 GRANGER - Truckers driving through the Lower Yakima Valley now have another place to park for the night.
The Granger Travel Plaza opened for business July 29 and sells Chevron fuel products.
Owner Paul Sohi has owned the land across from the Granger Conoco station for about three years and thought it would be a good place for a service station.
Featured at the truck stop are showers at $3 a pop. According to Sohi, most truck stops charge $10 for a shower. If truckers fill up their rigs they get a shower for free.
There is also a drivers lounge available. The room has couches for drivers to relax on and a large, flat screen television for entertainment.
Besides the drivers lounge, Sohi put in a game room with a couple of video games, pay phones and laundry machines.
"We've gotten a really good response from the truckers," Sohi said of the new amenities.
Sohi also sells truck supplies in the convenience store.
"Everything they need," he said. "I'm still bringing in more stuff and getting feedback from the truckers on what they need."
The business features eight gasoline pumps and five diesel dispensers, enough for four trucks to fuel up at one time.
More importantly for truckers is the room to fit between 75 and 100 semi-tractors in the parking area.
There is a money mart next door to the convenience store and an espresso stand, aptly named Dino Java. Mail boxes are available as well at the money mart.
Inside the store Sohi proudly features a beer cave. This is a walk in cooler where cases of beer are stored.
"The customers love it," he added.