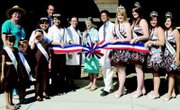 Sunnyside Pediatrics celebrated its move to 812 Miller Avenue this past Friday with a ribbon cutting ceremony and open house.
"We finally got it all done," said Sunnyside Community Hospital Community Relations Director Tom Lathen.
"We totally remodeled this building, so it's double the space they used to have," he added.
He said Dr. Anne Nealen went from working by herself delivering health care to area children to sharing patients with Dr. Mario Tobia, new to the area.
"It enables them to take on more patients," Lathen said. "And to reach out to people who didn't have insurance."
"When it was just Dr. Nealen, she was up to here with patients," he said while raising his hand to the top of his head.
Now, the clinic has two full-time doctors and a part-time pediatrics nurse practitioner.