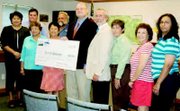 GRANGER - Officials met in Granger yesterday, Tuesday, to celebrate a $480,000 direct loan from USDA Rural Development.
Jon DeVaney, the state director for the program, presented an oversized check to Granger Mayor Ramona Fonseca in front of an audience that included Rep. Dan Newhouse and Barb Lisk, who was representing Congressman Doc Hastings.
DeVaney said it's the organization's job to assist rural communities with development. He also noted that the city is receiving a community development block grant.
Fonseca noted that the newly developed water system would likely lead to more home ownership and business development.
According to Maurice Block, the city's engineer, the first phase will be to create an entire pipeline and connect it to an existing reservoir, "providing a much more robust flow and (more) pressure to the east (and north sides) of the community."
He said that the city has been eyeing such a project since 2001, mulling what they needed to do to create economic development opportunities.
"It's not that the water system was bad, it just needed improvements," he said.