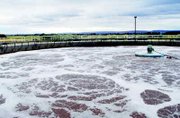 The Port of Sunnyside's wastewater treatment lab has received a clean bill of health from the Department of Ecology.
According to lab analyst Kathy Lathen, Ecology did have some recommendations for improvements on two tests that occasionally exhibit problems for the lab, but they did not receive any findings, meaning no changes or improvements were required for them to up their accreditation.
To put that into perspective, the lab receives 15 to 20 samples each day and performs between 50 to 150 tests on those samples, depending on the schedule.
An officer from Ecology conducted an onsite assessment at the plant this past June.
The plant must apply for the accreditation annually.
Lathen said the lab is accredited for 20 test methods, which is quite a few for a treatment plant.
Lathen said the plant is unique in that it's the only industrial plant in the state.
"We receive no domestic sewage and only treat wastewater received from industries with wastewater lines into the (port's plant)," she said. "As a result, the lab tests the water coming from each individual industry as well as water from each stage of treatment as it comes through the facility."
Lathen added that more analysis is required at the lab, because industry waste varies widely from day to day.
Three lab analysts work at the lab: Lathen, Sharon Ford and John Van Wingerden. Robert Farrell, plant engineer, oversees lab operations.