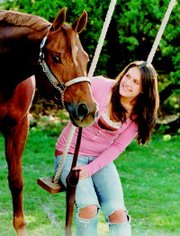 OKLAHOMA CITY - Approximately 2,750 participants recently competed for world titles in 33 events at the Ford AQHA World Championship Show in Oklahoma City, Okla.
One of the thousands of participants was Sunnyside's own Shelly Durfey, a 2007 Sunnyside High School graduate.
Durfey traveled to approximately 10 American Quarter Horse Association events from May 1, 2007 to April 30, 2008, and qualified to compete in five events at the World Championships. They were western riding, showmanship, horsemanship, performance halter gelding and hunt seat equitation.
With her horse It's Only Natural, Durfey rode to two ninth place finishes in the performance halter gelding and hunt seat equitation events. She was competing against 174 people in the latter event and 113 people in the former.
Durfey and It's Only Natural made it to the semi-finals in the horsemanship event and had a "good go" at western riding.
Durfey, who begins her sophomore year at Western Washington University in the fall, thanked her parents and her trainers.
"I couldn't do it without them," she said.