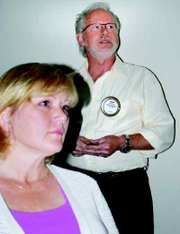 GRANDVIEW - Refractive surgery is a method of allowing cataract patients to see the world, according to Dr. Fred Boboth of Grandview's Boboth Vision Clinic.
He spoke to Grandview Rotary Club members Wednesday about ReZoom lenses, which are an acrylic lens utilized to help cataract patients see again.
Boboth explained to the Rotarians there is a lens behind the pupil of a person's eye. That lens, the crystalline lens, helps refract light and is typically clear when a person is young.
"As a person grows older, cataracts form," said Boboth, explaining a person loses their vision power from cataracts.
He said the lens is also elastic in a person's younger years, but after the age of 40 the lens becomes hardened and brittle.
Presbyopia, which is discovered as a person experiences difficulty seeing clearly, can also develop.
When a person has vision problems, such as cataracts or presbyopia, an intraocular lens may be implanted, according to Boboth.
He said the traditional intraocular lens used in surgery was the PMMA, which was inflexible.
Now, ReZoom lenses has developed the acrylic lenses. Boboth said the new lenses roll up and unfold when exposed to body temperatures within the eye.
He said there is a faster healing time and no sutures are necessary with the new lenses, which are available in single focus or multifocal lenses.
Boboth also noted many of the patients opting for the lens replacement have given testimony to the successful return of their vision.
"There are some aberrations with the new lenses," said Boboth, noting there have been reports of glare, halos and arches experienced after the lenses have been implanted. He added that those aberrations have been known to gradually lessen as time goes by.
He said the multifocal lenses are used for patients who no longer wish to use glasses or contacts, but the cost is approximately $2,000 more per eye and insurance will not cover the added cost.
Another surgery some patients opt to have is Lasik, however Boboth said that surgery is not covered by insurance and is a procedure used to flatten the eye.
Boboth said the intraocular lenses have a benefit to patients and the results have been positive...enough so that approximately 92 percent of patients no longer need visual aids, such as glasses to read.