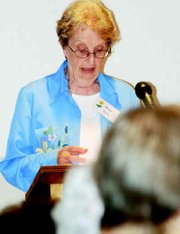 PROSSER - The Lower Valley Christian Women's Club were told this past Monday how a series of choices led one woman, Marge Scott of Bandon, Ore., to a fulfilled life.
She said her path to personal faith and fulfillment started at the age of 17, when she married her first husband. She said she was married to him for 13 years and had three boys.
"There was a lot of abuse," Scott noted, stating she divorced the first husband and became a single mother.
As a result of becoming single, Scott said she held two jobs. Working two jobs kept her from being around her boys, and one day she had to make some tough decisions.
"I had gotten a phone call from the police," Scott recalled, stating she could not have imagined what the police would be calling her for.
She discovered the police were concerned for the boys because one had stayed home by himself when he had been ill. Scott's son was 12-years-old at the time and the law prohibited a child of that age from being left home alone.
Discovering it was against the law to leave her 12-year-old home alone led to the decision to quit one job and cut back on expenses.
Scott said she met and married her second husband three years after having divorced her first husband.
Her second husband adopted her three sons and the couple had a fourth child together. She said their life was successful by the standards of society.
"We had a nice house, our own business and a great family, but something was missing," Scott told the Lower Valley Christian Women's Club members.
She recalled taking a family vacation from Colorado to Oregon. During that vacation, the family discovered a love for Oregon and decided to move there.
"Though we believed this would make us happier, it didn't...something was still missing," Scott said.
She said a friend invited the family to church and learned they were loved for who they are while at that church.
That discovery led Scott and her husband to invite Jesus into their lives. "We felt what was once missing had been found," she recalled, stating it is much the same for foster children.
Scott said foster children are looking for someone to love them unconditionally.
She said many of the children she has been a foster parent to have been in a juvenile facility and have bad backgrounds. Scott said those children, ultimately, want someone to love them unconditionally just as she and her husband needed unconditional love.
Just as the relationship with Christ provided the couple with tools for life and a personal success she never imagined, Scott said she and her husband try to provide their foster children with tools for living. "We try to plant the seed for growth," Scott said.
She said her life began to grow following her choice to invite Christ into her life. She began working with a preschool that provided free childcare for her youngest child. That led to working at Head Start, which led to becoming an aide at her son's private school. Eventually, Scott became the administrator of the private school.
"God provided me with the experience and the skills I needed...foster children need to be provided with the experience and skills for success," Scott said, stating those who feel like foster children, needing unconditional love, are invited to accept a relationship with Christ.