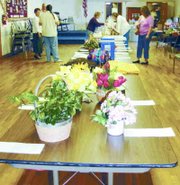 GRANDVIEW - For years, members of Grandview VFW Post 6929 have taken care of their own, hosting various fundraisers and benefits when a member's in trouble.
Today, the post finds itself on the other end of the spectrum, barely staying afloat, behind in its taxes and under investigation by the state gambling commission.
"It's a tough situation," says Trustee and House Committee member Don Pierce. "We're trying to get by with what we can and that's about the size of it."
According to Pierce, the gas has been shut-off to the building, and won't be turned on until the full bill is paid.
"The gas bill hasn't been paid for a long time," he said.
According to Pierce, money that should be in the coffers is simply gone.
Case in point: Pierce raised $6,000 for the veterans memorial in front of the post.
The money's gone.
"That really makes me mad," says Pierce. "There's nothing I can do and I got names to put up (on the memorial)."
But what Pierce says is lacking is a clear paper trail. In fact, Pierce says outside auditors have been called in and cannot find a clear paper trail to place responsibility on any individual.
Pierce, and others at the post, blame shoddy management--a former manager they say didn't pay the bills.
In fact, Pierce said that $32,000 in L&I taxes weren't paid last year.
This hurt the already ailing post, which had negotiated a deal with the IRS on regular unpaid taxes. Their job was to pay $200 a month on the bill and it didn't get done, says House Committee member Dan Schultz.
Pierce is vexed. "The bills weren't getting paid, then we got down to nothing. Nothing."
But, Pierce says, there are loyal friends of the post who have helped keep the doors open during this time of financial turmoil.
"Now we gotta work hard to pay 'em back," says Pierce.
This includes a post auction, slated for the fall.
In the meantime, Schultz said everyone is focused on moving forward and having a functioning club doing what it's supposed to be doing: "Going back to helping the vets."