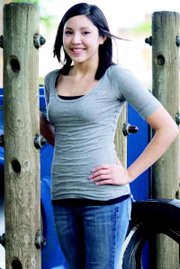 Ivette Torbay is every bit like her mother, Laura Matus--they look alike and act alike, so it's not surprising that Ivette is following in her mother's footsteps by pursuing the crown of Miss Sunnyside this coming September.
"She ran for a pageant in Guayaquil, Ecuador (when she was younger)," explained Torbay. "And she was crowned. My mom inspires me to do a lot."
Torbay is actually inspired by both parents. Her father Roberto Matus and her mother are both pastors and Mr. Matus was just appointed executive director for Transformation Sunnyside, a Christian group that wishes to transform the community through leadership and prayer.
In her own way, Torbay longs to make her mark, too. "I've become more aware that our community has some issues affecting my peers," she said. Chief among them are gang related violence and underage drinking.
Should she be crowned Miss Sunnyside, she wants to tackle these issues head-on through her community service project.
"If it's preventable, I want to put effort into trying to stop it, or at least reduce it," she said.
"I'm teaming up with Sunnyside's Promise. I sat down and talked to Lisa Fairbairn (director of the program) about issues teens have. We came to the conclusion that all kids are different, but middle school kids are the most (at risk)," she explained. "We looked at statistics, at times when kids seem to get in the most trouble." She said that as a result of that information sharing with Fairbairn, she wants to host weekly Friday afternoon fun activities for middle-schoolers.
Through her conversations with her parents, she said she's also learned that the same people volunteer for things over and over again, leading to burnout. For that reason, she wants to use her role as Miss Sunnyside to get local business leaders more involved in the fun Fridays, perhaps even having them host an event.
Simply put, she said, she just wants to provide activities to "keep kids off the streets."
For the talent portion of the Miss Sunnyside Pageant, Torbay will sing a song she learned in church, "Where Would I Be," but with a few personal twists and turns.
Said Torbay, "Since we (she and her sister Vanessa) were raised in a church...God is a really important part of my life." Through her music the night of the program, she said she wants to "do something that praises Him and I want people to be touched by it, to feel what I feel."
Torbay's a master at generating enthusiasm, as evidenced by the fact that she's a Sunnyside High School cheerleader.
She said she tried every sport, from ballet to karate, but finally found her niche in cheerleading.
Torbay also teaches Sunday school to kids ages five through seven.
Torbay is mulling attending Eastern Washington University and pursuing a career in medicine. "You can branch off into so many things in medicine, so I'm not sure yet (about the specifics)." One thing she does know, and jokes about is, "I can stand the sight of blood."
Torbay's sponsors include Ben Sartin State Farm Insurance, Richard Peede at Napa Auto Parts, Tom Biehl at RE/MAX First Advantage and Catholic Charities Housing Services.