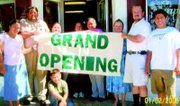 Shoppers, especially thrifty ones, now have an additional place to find their treasures with the opening of Iglesia de Cristo Miel's store, located at 524 S. Seventh Street in Sunnyside.
The store carries a myriad of gently used items, like movies, clothes, trendy jewelry, shoes and even unused items, like cosmetics.
Proceeds from the store's sales will benefit area youth.
"With the funds, we're going to open a training center for kids and young people that want to study computers and computer repair," said Cesar Lopez through an interpreter. "We're going to show them everything about computers."
This is the Iglesia de Cristo Miel's contribution to the community in terms of fighting gangs and domestic violence.
The store, which is located next to the Port of Sunnyside office, opened up this past Monday.
Volunteers man the store, which is currently accepting gently used items for resale.
"It will be wonderful if people can start donating items so we can start training the young people," Lopez said.
The store is open Mondays through Saturdays from 9 a.m. to 6 p.m., with the exception of Tuesdays, when they close at 5 p.m.