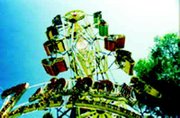 PROSSER - Families and community members from all over are invited to attend Prosser's annual States Day Celebration and Parade.
The 83rd annual event will take place on Labor Day, Sept. 1, in Prosser.
Those attending can join the crowds along the parade route in downtown Prosser. The parade, featuring floats and people from throughout the state, will begin at 10 a.m.
Featured in the parade will be marching bands, royalty from several communities and more.
Following the parade, those attending the event are invited to gather at Prosser City Park for a picnic filled with traditional foods, including hamburgers, hot dogs, corn-on-the-cob and tacos.
The annual event was named States Day because of one long-time tradition. Those in attendance register at the event according to their home state. The tradition continues at this year's event and attendees are invited to proudly wear a paper badge with the name of the state they are from.
Also included at the event will be music, games, carnival rides and more. The carnival will be provided by Paradise Amusements and wristbands are available for pre-sale at the cost of $17, saving attendees $9 each. The wristbands are good for the entire day and are available at the Prosser Chamber of Commerce, located at 1230 Bennett Avenue in Prosser.
Games, such as bingo, and concessions provided by Prosser Rotary Club, Kiwanis Club and Boy Scouts will be at the park.
Also beginning at 10 a.m., the Starlight Quilter's Guild Club will host a quilt show at Prosser High School's main gym.
Tours of the Benton County Museum will be provided fom 11 a.m. to 4 p.m., with a sing along beginning at 11:30 a.m. The sing along will feature Francis Barber on the 1867 Chickering piano, Robert Buchholtz on the accordian and Margrett Buchholtz playing rhythm.
Sunnyside's Martin School of Dance will begin the entertainment on Prosser's Sylvan Stage at 11:30 a.m. At noon, Bud and Patsy Mercer and Patrick Byrnes will be on stage and the jazz duo of Mary Lou Gnoza and Steve Haberman of KONA-AM in the Tri-Cities will also be at the event. The Dazzling Suburbanites will complete the entertainment on the Sylvan Stage. They are scheduled to perform at 2 p.m.
The Prosser States Day Celebration and Parade is an event for people of all ages, with activities planned for all to enjoy.
According to Prosser Chamber of Commerce Executive Director Jim Milne, this is Prosser's oldest community event and "offers something for the whole family."