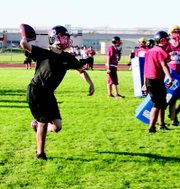 The 2008 high school football season is only 11 days away which means teams across the valley are beginning practices.
The Sunnyside High School Grizzlies began their practices last Wednesday, with two-a-day drills.
Nearly 90 students turned out for practices and the first three days the players went through their drills without any pads. The boys suited up, though, for two practices on Saturday and will be in full contact the rest of the way.
Sunnyside opens its season Friday, Sept. 5, against long-time rival Grandview.
. Corey Russell can be contacted at (509) 837-4500, or you can e-mail crussell@eaglenewspapers.com