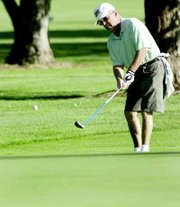 Twenty three teams participated in the annual Sunnyside Community Hospital Golf Tournament held at Black Rock Creek Golf Course this past Saturday.
The tournament is a fun way for the hospital to raise funds for its services.
Garnering the top score in the net play was the team of Jeff Barroom, Mark Larson, Matt Whitig and Maria Newhouse with a net score of 35.
The foursome narrowly edged out the team of Peggy Brewer, Keith Naughtin, Ken Aker and Mario Tobia, and the team of Rick Voorhies, Rick Asher, Joe Martinez and Cus Arteaga. Both of these teams finished with a net score of 36.
In gross scoring, the team of Mike Beckwith, Ryan Savage, Paul Filicetti and Bob Johnson took home a trophy with a team score of 52.
The closest to them was the team of Jose Contreras, Juan Guerrero, Trini Madrigal and Jim Gauley, who combined for a gross score of 54.
Raffle prizes were also handed out with the top prize being a weekend golf trip to Semi-Ah-Moo.