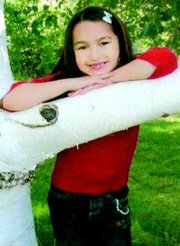 GRANDVIEW - Young Alexis Lara is gearing up for competition in the National American Miss pageant, slated to take place in Bellevue this coming Saturday, Aug. 30.
Pageant leaders describe the pageant as one that is based on inner beauty, with an emphasis on creating future leaders for tomorrow.
While there, the six-year-old Grandview resident will compete in poise and presentation and formal and casual-wear modeling.
Lara worked extremely hard getting sponsorships for the pageant and, much to the delight of her parents Sergio and Annette Lara, she's got 12. Sponsors include RH Smith Distributing, Garcia's Drive-Thru, Le Paris Salon-Hall, Santana's Bridal, Cash Direct, Westside Family Dental, La Super Bakery, Hi-Way Fruit, Spavinaw Dental, Fiesta Rentals, Sweet Curves of Yakima and Invitations Plus in Sunnyside.
"This is her first time (competing)," explained her mother, Annette. "She's been anticipating this for about a year."
Mrs. Lara first heard about the program from a co-worker. She then looked it up on the internet and the rest, as they say, is history.
When she's not readying herself for the pageant, Lara enjoys soccer, t-ball, dancing, singing, drawing and coloring, reading and playing with her two younger siblings.
Sunnyside's Mexx Impression is providing Lara's formal wear.
The pageant takes place at the Hilton in Bellevue.
&nbsp