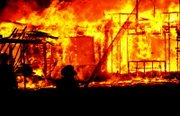 Firefighters from the Sunnyside, Grandview and Mabton fire departments, plus Yakima County Fire District No. 5 personnel, participated in an annual controlled house burn exercise last night, Wednesday.
The exercise provided two things to firefighters last night. It served as a final test for volunteer recruits and also satisfied a state mandate that firefighters participate in at least one house burn per year.
The house on the Sunnyside-Mabton Highway by Tear Road that firefighters burned last night was donated by the Sunnyside Port District.
Firefighters participated in 12 sets of exercises before finally burning the house to the ground.
"Things went really smooth and nobody got hurt, that's the main thing," Sunnyside Fire Department Deputy Chief Lloyd Hazzard said.