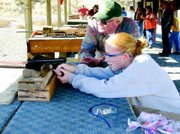 GRANDVIEW - Helen Trusley will begin her fourth year offering gun safety classes on Monday, Sept. 8, at the Odd Fellows Hall in Grandview.
Trusley certifies hunters that were born after 1972. Those born before that year do not have to get a certification before receiving a hunting license. Those born after, must complete the course in order to get their license.
"We teach firearm, muzzle-load and bow safety," Trusley said of her and husband Marv.
She said she teaches two classes per year, one in March and one in September. The week-long class runs 10 hours, two hours each night Monday through Friday. On Saturday students go to the shooting range where they do a walk-through simulation. Here, the students must demonstrate muzzle control.
After this the students participate in a live fire exercise. Students shoot a pistol, a shot gun and a rifle at the range.
Once the course is completed Trusley issues Washington Hunter Education certificates.
Fees for this class are by donation only.
Trusley said she has room for 30 students but has 22 already, leaving just eight spots open before classes begin.
For more details, contact Trusley at 882-5024.
photo provided by Helen Trusley
A student fires a pistol at the shooting range.