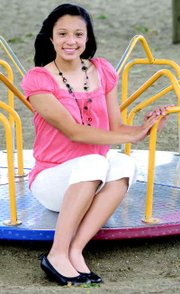 Avalon Valencia is a natural born leader and gifted multi-tasker. The 13-year dancer is currently teaching the craft to kids ages four through 12 and while she's not busy with that, she's engaging in a myriad of fun activities, like tennis, softball, cheerleading and volleyball. Should she be selected Miss Sunnyside next month, she's ready to tackle the responsibilities.
"I have the proper leadership skills and the determination to fulfill my community service project and any duties assigned to me if I'm crowned Miss Sunnyside," she said.
Seeing too many of her peers become mothers at a young age, Valencia plans to join up with Planned Parenthood for her community service project.
"(I want to) bring more awareness and education to the community about the benefits of being abstinent and the hardships that come with teen pregnancy, (as well as) the risk factors of the many (sexually transmitted diseases," she said.
Valencia said that Yakima County has the highest number of cases of chlamydia in the state, and ranks fourth for gonorrhea. And, particularly disturbing she said, "One in three Americans that are HIV positive are between the ages of 15 and 24."
Valencia said she has family members that have become pregnant at an early age.
"They always talk to me about waiting and taking care of myself," she said.
She's also touched on the hardships for teen mothers. "It's an emotional thing, taking care of a baby. It's a big responsibility that people should think about waiting for."
Valencia's a big Michael Jackson fan and she'll give a nod to the King of Pop come the Miss Sunnyside Pageant when she dances to a Michael Jackson mix.
"I'm performing it because I really like his music, I always have. And I like his dancing style. His music is really, really lively and fun to dance to," she said.
Her post-high school plans include earning her AA from Yakima Valley Community College. That way she'll be closer to home when little brother Brendon, 12, enters high school and little brother Jaimz, 1, enters pre-school.
From there, she plans on pursuing a psychiatry degree from Gonzaga University.
"I plan to be a psychologist for young children," she said. "I'd like to bring my degree back here and have my own office (in Sunnyside)," said the national honor student.
"I like visiting big cities, but don't think I could ever live in one," she explained. "Sunnyside's not too big, not too small and my family's here, too."
At Sunnyside High School, English and world history are among her favorite subjects.
"I get to learn all about different cultures and their pasts," she said. "That's something I've never gotten to do before."
"I've always wanted to learn more about Mexican history. It taught me a lot about Mexican leaders that were in that war," she said.
Valencia, the daughter of Melissa Gamboa and Joe Valencia, is a very busy young woman. She's in Pep Club and is a cheerleader for football and basketball. She's also a Link Crew leader, helping younger students adjust to high school life, and takes part in college prep courses like Upward Bound and Running Start.
Her sponsors for the Miss Sunnyside Pageant are Learning Land Express, K & U Auto Parts, Sunny Nails and Remaxx's Tom and Valerie Biehl.