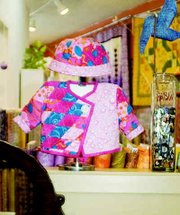 When Sunnyside's Stephanie Martin returned to the area after her husband's 20 or so years of service in the military, it seemed natural to get reacquainted in the area by finding a group of women who enjoyed one of her favorite pastimes: quilting.
Actually, it was her initial quest for quilting fabric that led her to the Starlight Quilters Guild, a group of Yakima Valley women who love to sew their hearts out.
She happened upon a store in Prosser called The Quilters Garden. "I asked them if they had a guild," she recalls of that first meeting.
Sure enough, Quilters Garden owners Teri Thomas and Shirley Steelman are both members of the guild.
"They told me they'd love to have me and that was a little more than two years ago," says Martin.
After being gone for 20 years, she felt like she had to learn the Yakima Valley all over again and having her cohorts in the guild helped with that process.
Martin says one of the benefits of the club besides the fellowship is learning new tips and tricks.
"(You may find) there's something you've been doing all this time but there's an easier way to do it," she said. "Or, something may be easy to you, but difficult to others."
None of this is what sold Martin on the guild. It was actually their commitment to donating quilts to comfort others in need.
"That was the thing that sold me on joining them," she said. "If they see a need, we say, 'OK, we'll do it'," says Martin.
Thomas echoes that.
"Year round, we're sewing to donate to various organizations," says Thomas.
The Starlight Quilters Guild has donated raffle quilts to fire departments, the Yakima Valley Fair and Rodeo, Birthright, Life Options and even Prosser Hospital, not to mention the lap quilts they've sewn for the elderly at Sheffield Manor.
That's a fun memory for Thomas. "We took them under our wings and they all got lap quilts for gifts during the holiday season," she recalls. And she's quick to mention that whenever a knew elder comes to Sheffield Manor, the guild is ready to present a comfort quilt.
Quilts, she says, "Give warmth not only to the body, but to the heart as well."
And, she adds, "We've donated quilts as far away as Spokane's Deaconess Hospital."
Every other year, guild members create their own large work of art to raffle off to raise funds for the organization.
"Member-wise, we're only 12 or 13 strong, but we're all hustling, bustling ladies-sew, sew, sew!"
Thomas is quick to note that while giving to others is as comforting as the warmth the quilts provide, there's something in it for the dozen or so guild members, too.
"We do things for ourselves," she says. "We teach each other and do fun projects like 'block of the month.' And we do challenge quilts."
Challenge quilts are created when each seamstress has only two fabrics to work with, each ghastly matched up. "We take horrible, clashing fabrics and we're supposed to (use them to) come up with a quilt.
"Your imagination just goes wild," she adds. "That's the challenge. To look at these two fabrics and figure out what we can do to make it beautiful."
Thomas says she's never been disappointed with challenge quilt outcomes. Often, she says, "You end up thinking, 'Why didn't I think of that?'."
The public will be treated to the fruits of the Starlight Quilters Guild's labors this coming Monday, Sept. 1, when they display more than 175 quilts they've lovingly toiled away on for the past year.
Admission to the quilt show at Prosser High School is free, though the guild merrily accepts donations.
The show is from 10 a.m. to 4 p.m.
On display will also be kids' quilts, something Thomas and Steelman are firm believers in. The two teach kids to quilt at their shop in Prosser.
"It's important to see this art continued in the next generation," she says.
After school, kids zip off the bus and dash to the shop to toil away on their individual masterpieces.
To learn more about quilting classes for young and old, or the guild, call Thomas at 509-786-2766.
Better yet, stop by the Quilters Garden, which is located at 1205 Meade Avenue Tuesdays through Friday from 10 a.m. to 5:30 p.m. and Saturday from 10 a.m. to 3 p.m.