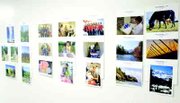 For the second straight year staff at Sunnyside Community Hospital are biting their nails, hoping it will be their entries that get picked to represent the hospital's 2009 calendar.
Sunnyside Community Hospital Community Relations Director Tom Lathen said he started the contest last year as a way to get some of the staff's photos into the yearly calendar.
Lathen said he started the calendar in 2005 when he found a website where he could just send in photos and the people operating the website would put them together into a calendar.
The calendar is just for hospital staff and lists things such as pay days for the staff and hospital health care dates.
"I then decided to do it internally to keep the costs down," Lathen explained.
Before the calendar was full of just Lathen's photos but in 2007 he decided to turn it into a contest for the hospital staff.
The result is 152 photos lining the hospital's administration hall's walls. Photos range from drills and visits at the hospital to staff member's trips to Mt. Rainier and other vacation spots.
"The employees really like it," Lathen said. "We've had at least 20 people vote so for."
Hospital staff will vote on the best pictures and on Dec. 8 the winners will be declared.
The person whose photo entry garners the most votes will get the honor of seeing their picture on the cover of the 2009 calendar.
Each person who has a photo in the calendar will receive a copy of it. Otherwise, only two or three calendars will be passed out to each department.
Lathen said the 152 photos come from between 10 and 12 employees.