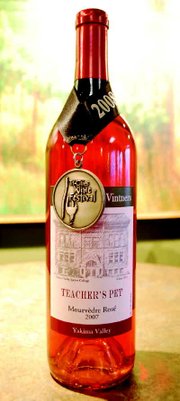 GRANDVIEW - Yakima Valley Vinters, the teaching winery at Yakima Valley Community College's Grandview campus, entered its 2007 Rosé and won the silver medal at the Tri-Cities Wine Festival last month.
Trent Ball, agricultural department chair at YVCC, said the students in the winery technology program created the wine, known as Teacher's Pet, by melding the spicy characteristics of mourvedre and the fruity notes of viognier grapes. "The mourvedre is a red grape and adds its color to the white viognier," he added.
The students created the wine under the direction of Mark Wysling with the goal of making a dry Rosé for the purpose of pairing with barbeque cuisine, according to Ball.
He said the grapes, which are from Two Coyote Vineyards near Zillah, sit on the skins for approximately 48 hours before they are pressed. The co-fermentation process blends the flavors to create a unique flavor.
More than 300 wines from wineries across the Pacific Northwest were entered at the 30th annual Tri-Cites Wine Festival.
The wine competition is professionally judged and allows smaller wineries to be poured side-by-side with those from large producers.
"2007 was our first vintage release, and it was great to see the fruits of the students' labor," said Ball, expressing he is pleased with the results.