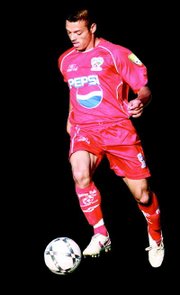 Already playing professional soccer for the Wenatchee Fire, an indoor soccer team, Junior Garcia of Sunnyside is hoping to move up a notch and play in the major leagues for the Seattle Sounders.
Garcia was one of four soccer players picked from a field of 230 who tried out for the Sounders in Yakima Nov. 22.
There, Garcia shot and passed his way into getting an invitation to the Sounders' training camp in January.
"I'm excited," Garcia said. "This is going to be a big leap in my career. It's a big chance to play for a major professional team. It's something I've wanted to do for a long time."
The 2005 Sunnyside High School graduate played for the Yakima Reds last season and was selected the 2008 PDL Most Valuable Player after leading the league in goals and scoring. He currently plays for the Fire, something he's done for the past month.
This past weekend he traveled to Denver with the team to take on the Denver Dynamite and the Colorado Lightning.
Last October he traveled to Mexico with the United States national arena soccer team, where he helped represent the United States at the 2008 Torneo Internacional de Futbol Rapido Monterrey.
The Sounders invited four players from the Yakima tryouts, three players from the Tukwila tryouts and three players from the Spokane tryouts to Seattle's training camp in January.
At the training camp, the Sounders' coaching staff will narrow their choices to just three players.
Those players will then compete in a one-hour reality show after the Super Bowl on Feb. 1 on King-5 television in Seattle. The details of the gimmick are being kept under wraps by Seattle's front office but the public will vote on which player they think did the best and who should be the newest member of the Seattle Sounders.
Garcia said he isn't sure if the one-hour reality show will be viewable here in Sunnyside but said people should be able to watch it online at King-5's website.
After being selected as one of the 10 players to attend January's training camp, Garcia is cautious but optimistic about his chances.
"I think I have a pretty good chance," he said. "I will have to keep in shape. This won't be easy. These other guys want it as bad as I do."