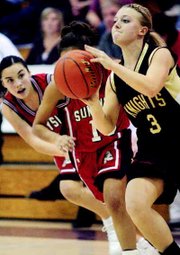 GRANDVIEW - Enlightening. That's the word Sunnyside Christian High School Coach Al Smeenk used to describe last night's season-opening jamboree in Grandview.
"We found out we have some things we need to work on," Smeenk said of his Lady Knight hoopsters.
From an official standpoint, Smeenk's crew came away with a split. The 1B Lady Knights whipped up on the ineffective 3A Sunnyside Lady Grizzlies, 28-13, but fell to the 2A Wolfpack of Wapato, 28-21.
Monday evening's jamboree games consisted of two, 10-minute halves. Each team put its JV on the floor in the opening half, with the varsity replacing the younger players for the final 10 minutes.
On a positive note, said Smeenk, his junior varsity players turned both games over to the varsity with Sunnyside Christian leading.
Another positive for the Lady Knights in last night's jamboree games was the play of junior Makaela Duim. "She led us in scoring last night," said Smeenk, noting she had six points in one of the abbreviated contests and four in the other.
Duim is expected to swing back and forth from the JV to the varsity this season.
Noticeably missing from the Sunnyside Christian line-up was 5-10 junior Renee Dalrymple. Penciled in as a starting post player for the varsity, Dalrymple suffered a broken bone in practice recently, and is expected to miss the first month and a half of the season.
Smeenk said his team is going to have to pick up the slack inside the paint until Dalrymple returns. That means, in part, blocking out better than the Lady Knights did last night.
"Defensively, we didn't block out well at all last night," he said. Wapato, on the other hand, said Smeenk, did a superb job of blocking out his players inside the key.
From an offensive perspective, Smeenk said there remains much to work on.
"We have to attack. The girls have to learn to go to the hoop," he said. "And, we have to get more scoring from our guards."
Smeenk also wasn't all that satisfied in what he saw last night with his offensive sets. "We definitely needed to see more motion…too much standing around," he said.
The Lady Knight coach said his players will also be working on breaking defensive presses. Last night, Wapato applied a press that created far too many turnovers. "We'll address that in practice, learning how to handle the pressure," Smeenk said.
Bottom line, Smeenk continued, season-opening jamborees are intended to expose the flaws of a team embarking on a new campaign.
"That's what happened last night. Now we have a good idea of what we need to work on," he said.
The Lady Knights, however, won't have too long to repair the chinks in their armor, as they are scheduled to host 1A White Swan this coming Thursday. The following night, Sunnyside Christian's girls trek to Richland for another non-league match-up against Liberty Christian.