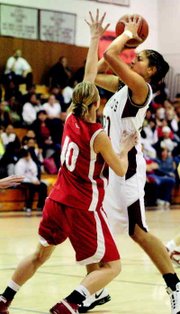 GRANDVIEW - The Grandview High School girls basketball team defeated both Prosser and Sunnyside yesterday (Monday) at the Grandview Basketball Jamboree.
Grandview Coach Paul Van Pelt said the experience provided his team with insight into where it needs work and "…what we have a handle on."
The Lady 'Hounds eared a 22-20 victory in its first game against Prosser. Van Pelt said the first half of the game, which consisted of two 5-minute quarters, was played by his 'B' team.
The 'A' squad jumped into the game during the second half, scoring six points in the third quarter and 10 points in the fourth quarter.
The winning bucket was scored by Grandview's Kinzi Poteet with 15 seconds left in the game.
"The second game felt more comfortable," said Van Pelt.
Grandview outscored Sunnyside 31-24 in that game, dropping in 22 of its points in the second half.
Poteet was the top scorer with 11 points, and teammate Gio Gomez scored four points.
Van Pelt said the team moved the ball around against the Lady Grizzlies and "everyone got involved."
Scoring two points each for the Lady 'Hounds were Jessica Lopez, Gabby Montelongo, Megan Smasne and Doris Lupercio.
"We had good aggressive defense," said Van Pelt.
Because of the defense, Sunnyside was only able to score four points in the third quarter of the game and eight points in the fourth quarter.
As for offensive play, Van Pelt said he felt the Lady 'Hounds were very active and he feels the entire experience was a good preview of the coming season.
The game against the Lady Grizzlies provided Grandview with insight into what to expect at its first game of the season, which will be against Sunnyside, scheduled for Tuesday, Dec. 9.
"This was a good learning experience," said Van Pelt, adding he feels the Lady 'Hounds now know what to build on.
"We learned the key ingredient for a good season is that we work well together as a team," he noted.