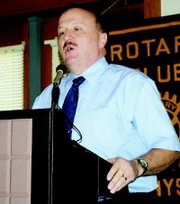 The Sunnyside School District is asking voters to approve an $11.4 million bond in the spring of 2009.
The bond, targeting the modernization of Sunnyside High School, will generate another $35 million from the state, according to Monday's Sunnyside Noon Rotary Club speaker Dr. Rick Cole.
He said Sunnyside has a history of funding school improvements and new construction through the passage of bonds. During the past 10 years, he and the school district have sought approval of levies and levy equalization dollars that have helped to pay off bonds.
Levy equalization funds not used for programs and projects have been set aside by the school district to pay down bonds, but some taxpayer dollars have also been utilized for this purpose.
Cole said the approval of a new bond would keep taxes where they are, $1.63 per $1,000 assessed property value. "The best thing I can tell you is this is a replacement bond and the district will receive $35 million for the (high school modernization) project," he told the Rotarians.
He explained it has been 20 years since the high school was last modernized. "If we don't take advantage of this now, I am a little nervous the funding won't be available if the district waits and the state changes its rules (regarding matching funds)," he stated.
The modernization of Sunnyside High School would allow an addition of 40,000 square feet to the current facilities. More than 7,000 square feet would receive refurbishment funding and more than 169,000 square feet would be updated. The overall cost would be more than $44 million.
Cole said the funding, if approved, would also be utilized to add on a multi-purpose room and kitchen at Sun Valley Elementary School at the cost of $1.6 million.
When asked why the school district seeks to modernize instead of construct a new building, Cole said the current building would need to be determined unusable to receive proper funding.
He explained the new bond would also be beneficial to taxpayers in that it extends a current bond by five years and taxes will not increase.
"Sunnyside is not levy dependent," Cole explained, telling the Rotarians that the use of excess general funds generated from unused levy dollars will assist in paying down the bond.
He said the school district, if the bond passes, will not qualify for future funding for another 25 years, adding it is important that the bond passes.