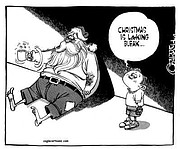 It's almost Christmas time and for some it's all about giving and receiving. For some it's about forgiveness and counting the blessings one has. And for others, it's the time of year to go all anti-religious.
Case in point, recently a group known as the Freedom From Religion Foundation placed an anti-religion holiday display at the State Capitol in Olympia.
This display sits next to a nativity scene and a Christmas tree.
Here's what the sign reads.
At this season of the winter solstice, may reason prevail. There are no gods, no devils, no angels, no heaven or hell. There is only our natural world. Religion is but myth and superstition that hardens hearts and enslaves minds.
Now, I really don't have a problem with the message. I think it's a fair thing to say just as I believe a religious person proclaiming their faith is a fair thing to say.
Right-wing radio has had a field day with this and according to Bill O'Reilly, he planned on hammering our governor about this on his program last night (Tuesday), if she dared to come on.
Other radio talk show hosts have called this message hate speech.
I disagree with that but I agree the message is in poor taste for Christmas.
People calling themselves atheists account for approximately 10 percent of the United States' population. Apparently they feel they deserve equal billing with any other religion during the holidays. Why, I don't know.
It doesn't make sense to me. I mean, like I say, I really don't have a problem with the message but did the group have to try to disrupt the Christmas spirit by putting up this message?
Why do atheists care about religion in the first place? Certainly having a nativity scene and a 'holiday' tree at the State Capitol isn't going to hurt them.
I mean, just the fact that Washington state's government is calling the Christmas tree a 'holiday tree' should make them happy, right?
I guess not.
What this group is doing is shoving its message in people's faces, whether they like it or not. It's something that I'm sure atheists will point out that some religious people do. So why do it themselves?
I think O'Reilly said it best when he described the situation as, "Political correctness gone amok."
No matter what one believes about the afterlife one cannot argue that during the Christmas season there is a feeling of love, friendship and camaraderie in the air.
What's wrong with that?
This group is trying to make a point but it misses its mark. Just because there might not be any gods, devils, angels, heaven or hell, doesn't mean you have to be a jerk about it.
Merry Christmas everyone.