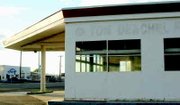 "I'm heading west again."
That's how Tom Denchel describes his move to re-open a Ford dealership in Sunnyside starting Monday, Dec. 15.
Denchel runs a dealership in Prosser and for 13 years operated in Sunnyside before closing it three years ago.
At the time Denchel cited the duplication of computer, personnel and equipment at the two locations as a reason for closing the Sunnyside business.
Denchel's return is good news for Sunnyside, which is working on a cash-strapped city budget for 2009.
The Ford Mercury dealership will generate $50,000 to $75,000 in annual sales tax revenue for the city, according to estimates from when Denchel was last here three years ago.
Not only is Denchel coming back to Sunnyside, but he is returning to where he started business by re-opening at the location of his very first dealership at Sixth Street and Yakima Valley Highway.
The move means that two of the Prosser sales team will come over to Sunnyside, and Denchel said he will likely hire two more employees to work with them and the fleet of 35 to 50 new and used vehicles that will be for sale.
Denchel said he's able to open again here because of a more streamlined operation than he had when he left three years ago. At that time he had moved the dealership to a large, glass-enclosed show room and garage.
The new dealership here will not have a service garage but will be open seven days a week from 8:30 a.m. to 7 p.m.
Denchel said he's put about $50,000 into re-opening at the old site.
He wishes he would have done it earlier.
"We put it off, we should have come up sooner," he said. "There's too big of a market for us not to be up there. As easy as it is to drive to Prosser, you still need to be close to market."
Denchel says he won't leave Sunnyside again.
"I'm there for the foreseeable future," he said. "This is basically taking care of the market I'm assigned to cover."