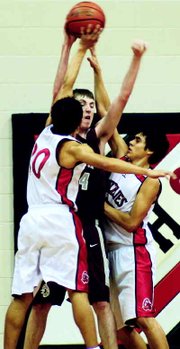 The Sunnyside High School boys basketball team opened the 2008-09 season last night, Tuesday, with a pair of wins in a home jamboree.
The jamboree results won't count on Sunnyside's season record, as they were each non-regulation 20-minute games.
Sunnyside first played rival Grandview and captured a 53-50 win. The Grizzlies led 24-15 at the break and relied on rebounding to outlast the Greyhounds.
"We've been working at being real active on the offensive and defensive boards," said Sunnyside Coach Ron Roe. "The players have taken to it. Hopefully we'll continue to get stronger."
Sunnyside was led by Pedro Vargas with eight points, followed by Alfredo De La Barrera, James Sanchez, Nick Steckler and Kennedy Sarmiento with six points each.
In Sunnyside's second game, the Grizzlies used a 22-3 second half surge to rally past Sunnyside Christian. The Grizzlies trailed 19-16 at the half.
"We had a lot of good play," Roe said of his team's second half outburst, which featured a man-to-man defense. "We were moving the ball around on offense and there were some moments where we were real sharp."
De La Barrera scored six points to lead a balanced Grizzly attack. Israel Manzo tallied five points for Sunnyside, while teammates Kyle Leija, Jordan Esqueda, Steckler, Matt Johnson and Matt Bermudez each chipped in four points.
Sunnyside officially opens the new season this coming Friday when it hosts Kamiakin.
Despite the success of last night's jamboree, Roe says there's still work to do in getting ready for the regular season.
"We need to continue to refine our offense and defense and work with developing consistency out there."