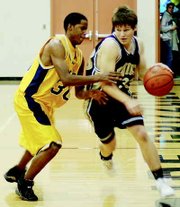 Sunnyside Christian High School boys basketball head coach Dean Wagenaar summed up last night's boys basketball jamboree held at Sunnyside High School with one sentence.
"It was an interesting evening," he said.
Wagenaar's 1B team played with the big boys last night, taking on 2A Wapato in the first game and then playing host 3A Sunnyside to finish the jamboree.
Against Wapato the Knights couldn't overcome a 12-point first half deficit and fell to the Wolves 40-24.
SCHS's junior varsity took the floor for the first 10-minute half and were outscored 22-10. When the Knights' varsity squad took the floor Wapato came out with a full-court press to try to disrupt SCHS.
Although the Knights lost the game the varsity held its own against the larger school, only getting outscored 18-14 in the second half.
Down by 12 to start the half, SCHS inched to within five points before Wapato was able to pull away, getting three quick baskets in the final minute.
"We made some mistakes," Wagenaar said. "Our defense did okay but they're not as solid as we need to be at this point."
SCHS's Steven Broersma led the Knights with six points. He was followed by teammate Jordan Vogel with four points. Matt Crabtree and Kevin De Jong added two points apiece.
Wagenaar said his varsity squad played their entire half with a man-to-man defense and was happy with the overall result.
Things got a little uglier against the Sunnyside Grizzlies in the Knights' second game of the jamboree.
The junior varsity unit for the Knights led the Grizzlies 19-16 after one half but SCHS's varsity unit was outscored 22-3 by their Grizzly counterparts and SCHS lost 38-22.
"Sunnyside played good, sound defense and we just couldn't make baskets," Wagenaar said. "You got to give Sunnyside credit."
In the first five minutes of the second half Wagenaar said the Knights played well despite scoring only one point. That score came from a De Jong from the charity stripe. Broersma added a basket in the last part of the second half.
Wagenaar pointed out some positives in his team's play, saying his players handled the ball well against some tough pressure.
He also pointed out some things his team needs to work on.
"We must execute better," he said. "We have to finish. We need to be able to put the ball in the hoop."
The Knights will begin their season tomorrow, Dec. 4, when they host White Swan at 7:30 p.m.